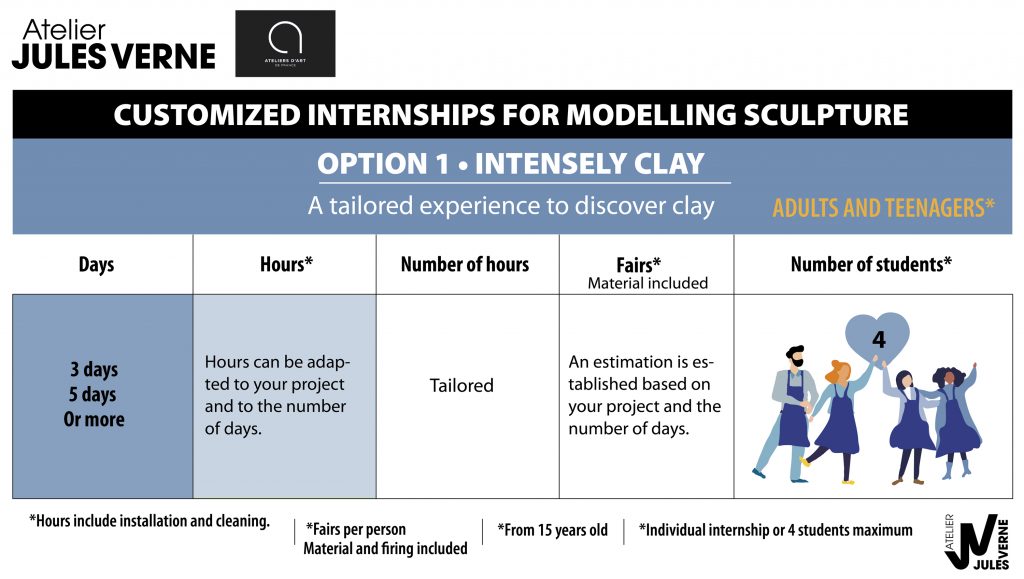 Option 1 • INTENSELY CLAY
A tailored experience during 3, 5 or more days
This tailored option will be thought relatively to your protects and aspirations. I can advice you, and you can call me to discuss it.
Training on different modelling sculpture technics (mass, plate, colombin, print, etc.) with the help of specific tools (roll, cleat, chisel, trimming tool, etc.)
I guide and support you in this experience of clay.
Drying of the sculptures that will be glazed latter on if you want (first firing) – Anticipate several days to weeks to allow the creations to dry, and for you to be able to bring them back with you.
This option can welcome a maximum of 4 persons.
You share the space of the workshop with students registered to the weekly modelling sculpture and ceramic classes that are held from Monday to Wednesday. On the other days of the week, the workshop is exclusively reserved to you.
HOURS
Hours are adapted to your projet, also depending on the number of days registered for.
If desired, afternoons can remain free to be able to visit the surroundings of our amazing region.
FAIRS (material and firing included)
A price estimation will be established depending on your projects and on the number of days.
For all of those coming back to attend another internship – option 1 – INTENSELY CLAY, topics evolve, and get more personalized – as this is how you become intensely passionate about clay. You can continue working on your project if it wasn't finished during the previous internship.
It is important to understand that sculptures made during and internship and that are not dry can remain at the workshop during several weeks. However, after the decided date, these sculptures will be destroyed if you don't get back to us, as the space is limited. Please carefully take notice of the recuperation deadline, in order not to be disappointed.
If you want to create your own sculptures for a raku firing, I recommend you register for the third option: RAKU internship – THE RAKU EXPLORATION. This option is based on the timeline necessary to the different specific steps of the creation of a piece made for a raku firing.
TO REGISTER, IT'S VERY EASY:
All classes demand registration as there is a limited number of spots.
Contact me by phone or email to establish a cost estimate.
Once the estimation accepted, download the registration form above. Then mail your registration document signed, along with the deposit check. Please read carefully the internal rules of the Jules Verne workshop.